Posted by ARTISAIRE on 2020 Nov 13th
Hi loves!
Deck the halls, put on your favorite holiday tunes, get your craft supplies out, and set up your workshop. We partnered with Alissa from Plush Invitations to bring you a guide full of inspiration for gift wrapping and present ideas this holiday season! While many of us are trying to show love and sentiment from afar this year, we wanted to bring you 6 perfect ways to help you do just that.
Meet Alissa, from Plush Invitations
Hi! I'm Alissa, owner of Plush Invitations. I'm a designer and stationery specialist from Calgary, Alberta where I juggle life as a mama and an entrepreneur. I've been in the biz for a time! Starting as finisher in 2008, moving on to owner in 2012 and still creating and evolving in the stationery business today. I love working with a clean classic design and adding personal touches and embellishments to finish off an invitation suite. I've seen so many trends come and go in the past 12+ years, but one that has always remained strong, is the use of a wax seal to elevate any piece.
Today I'm going to chat a bit about 5 ways to send holiday love. This year, more than any other in history, has had its challenges. People have to be creative in how they connect, and the importance of their interactions with loved ones will be done with the utmost intention. So... how do we as stationers / designers and hobbyists make the most of this interaction? By creating meaningful pieces that truly connect.
This is the most fundamental of all holiday stationery traditions, pretty sure we all do it! But what if you took your annual Christmas card a little further this year?
Adding a wax seal in a festive design to compliment your design adds a little Extra to your typical mailing. Add it to the card itself, as well as the outer envelope. Make your card design a little more handcrafted – consider sealing the wax yourself, using handmade paper, an envelope liner, hand-writing your guest's address, adding a wraparound gold thread – all these options let your recipients know you're putting forward your hard earned time, and creating something truly memorable... for them.
PS. How adorable is the North Pole Post design?!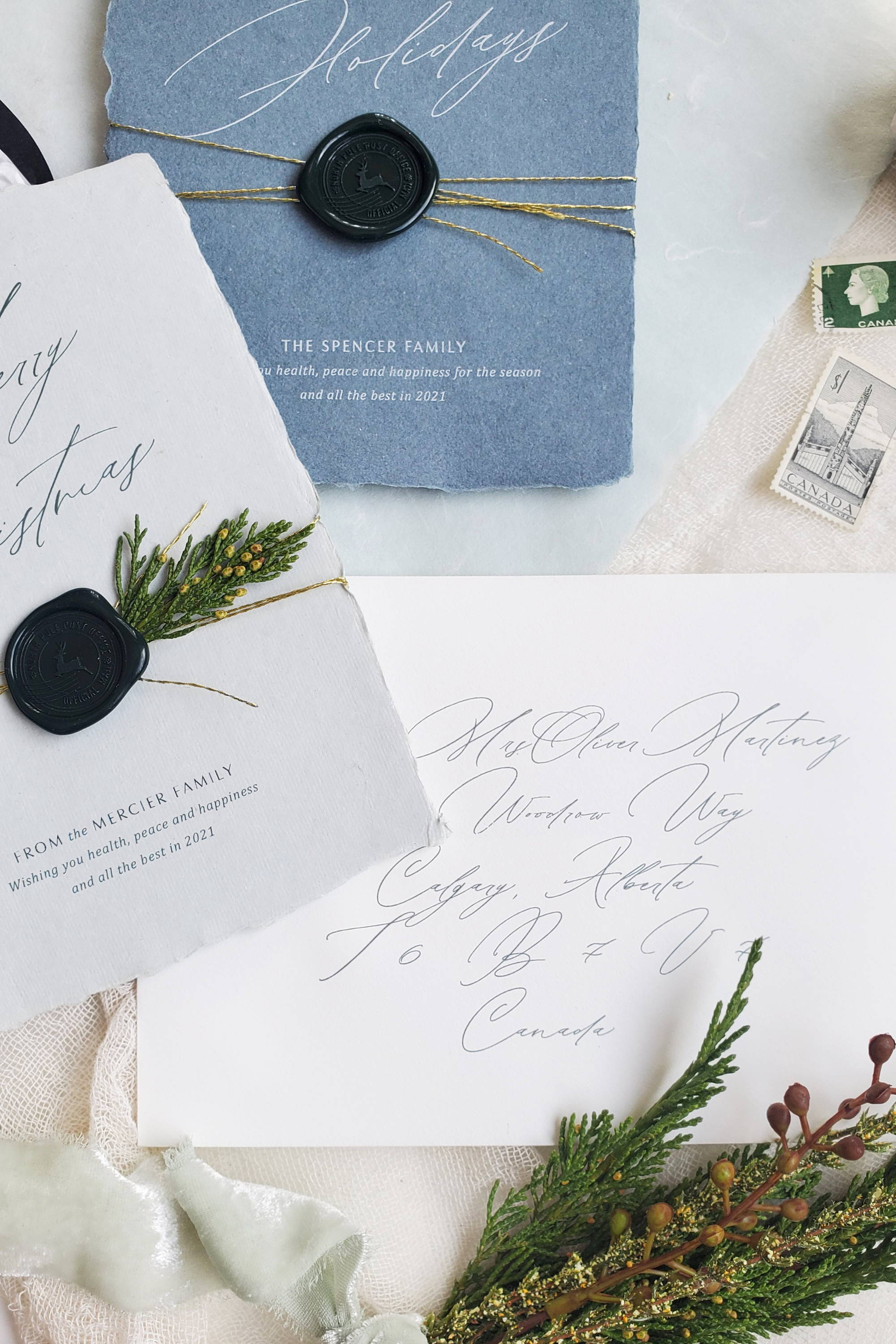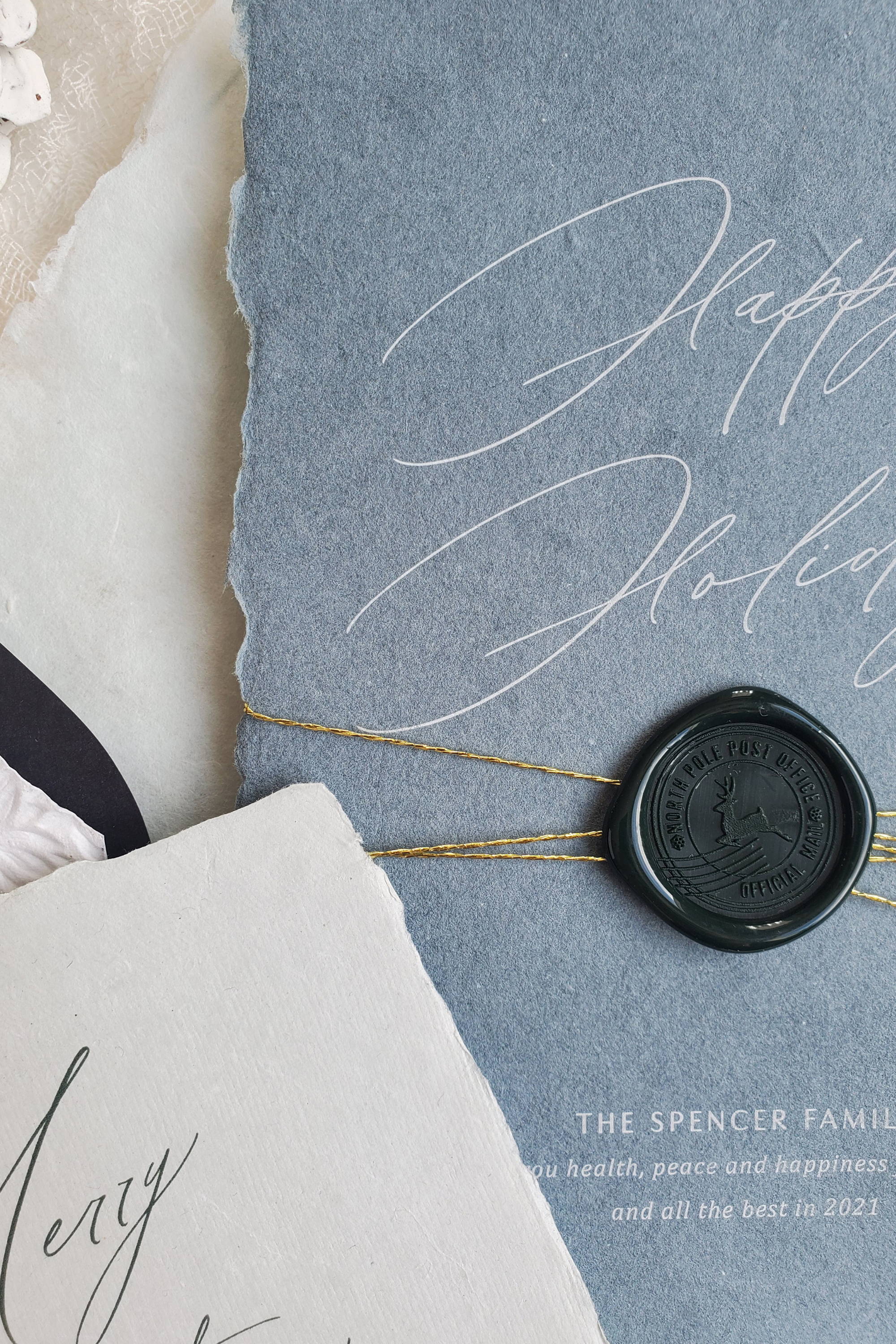 Nothing says heartfelt more than spending hours in the kitchen, showing off your new quarantine skills making goodies (or, alternatively bravely facing the supermarket during the holidays) and gifting those to your loved ones. The cheerful Ruby red of these Happy Holiday seals is the perfect touch. Here I've created some whimsical kraft treat bags filled with treats – adorned with a seal and small gift tag. Share the love with the kids on your list. They'll love you for it!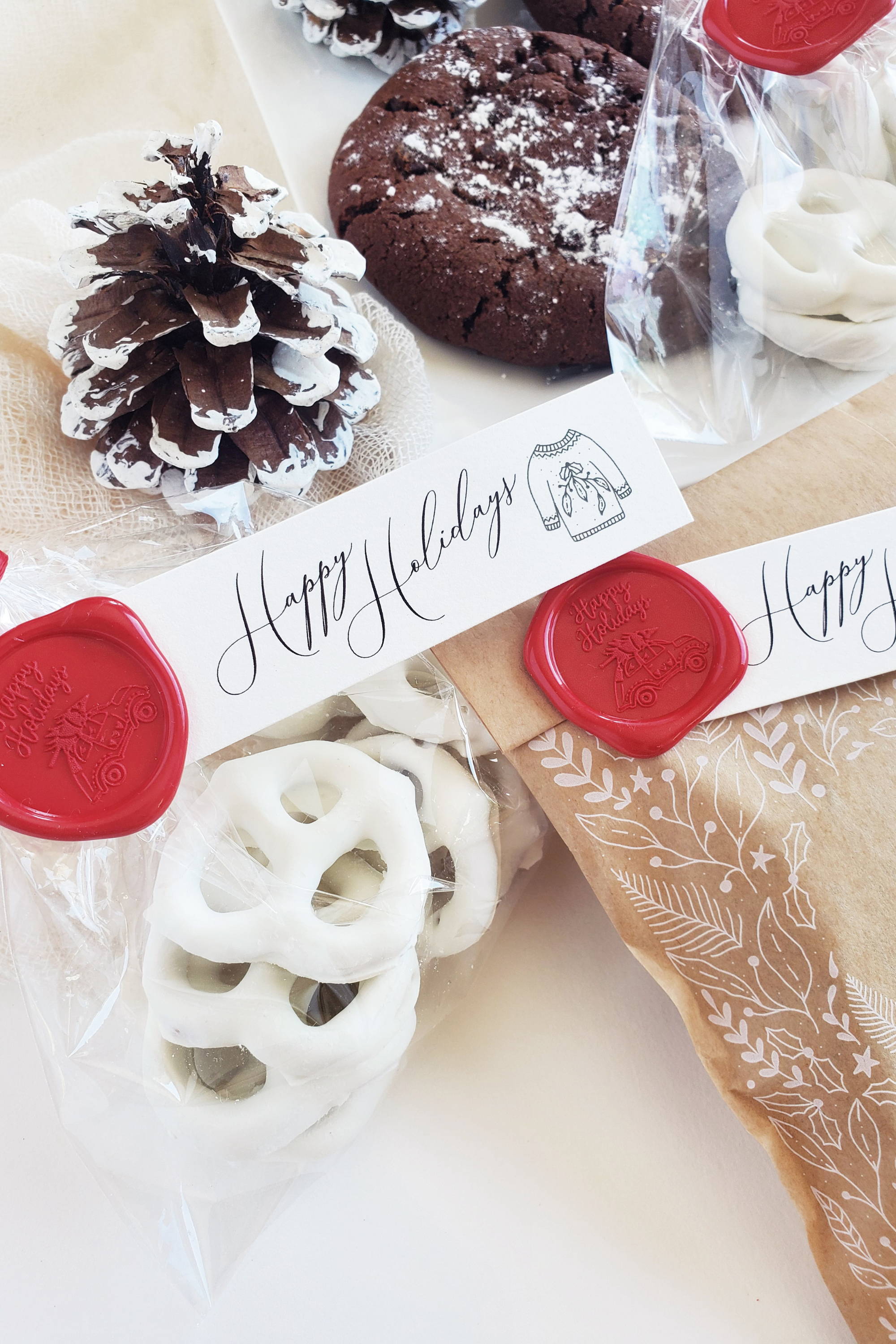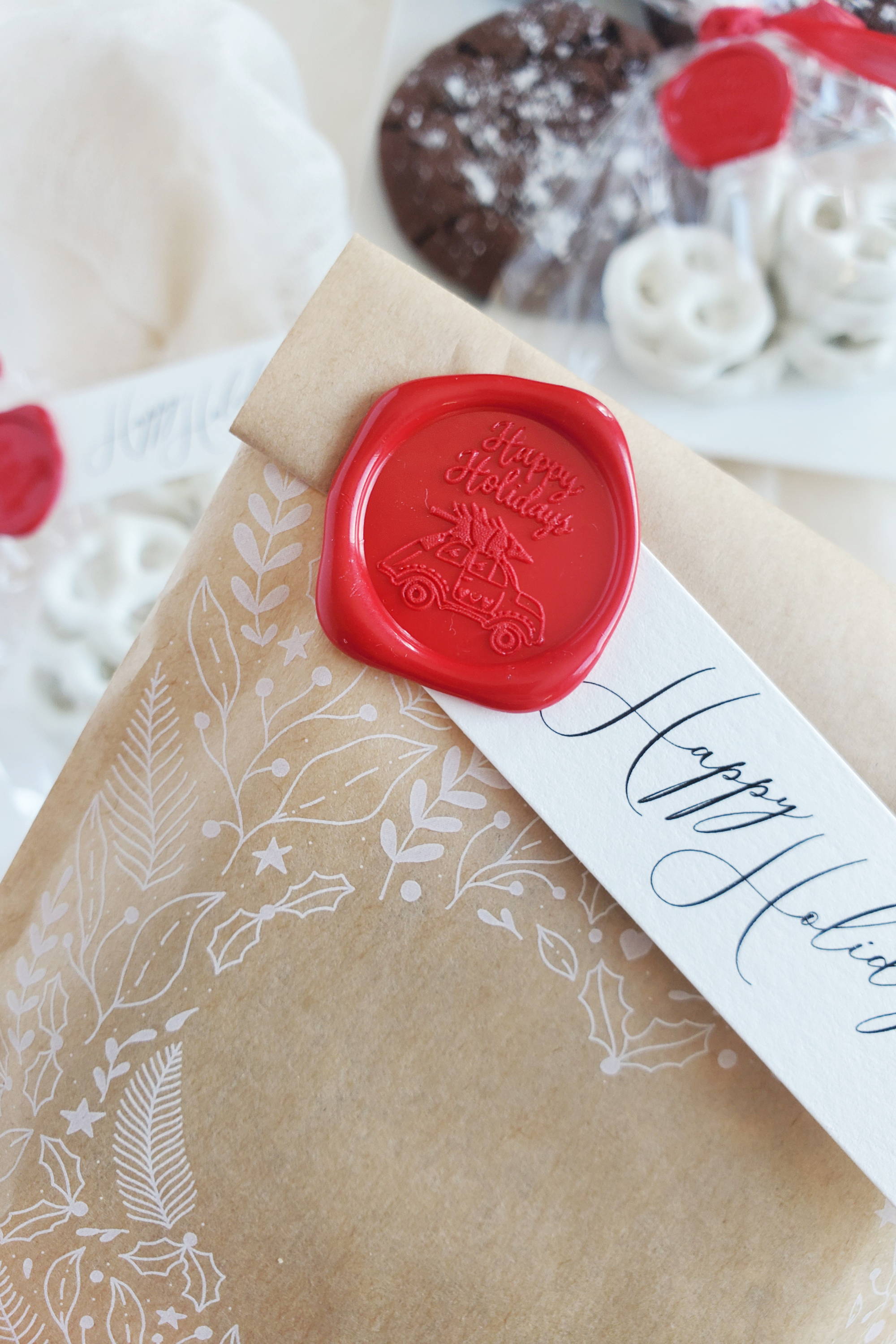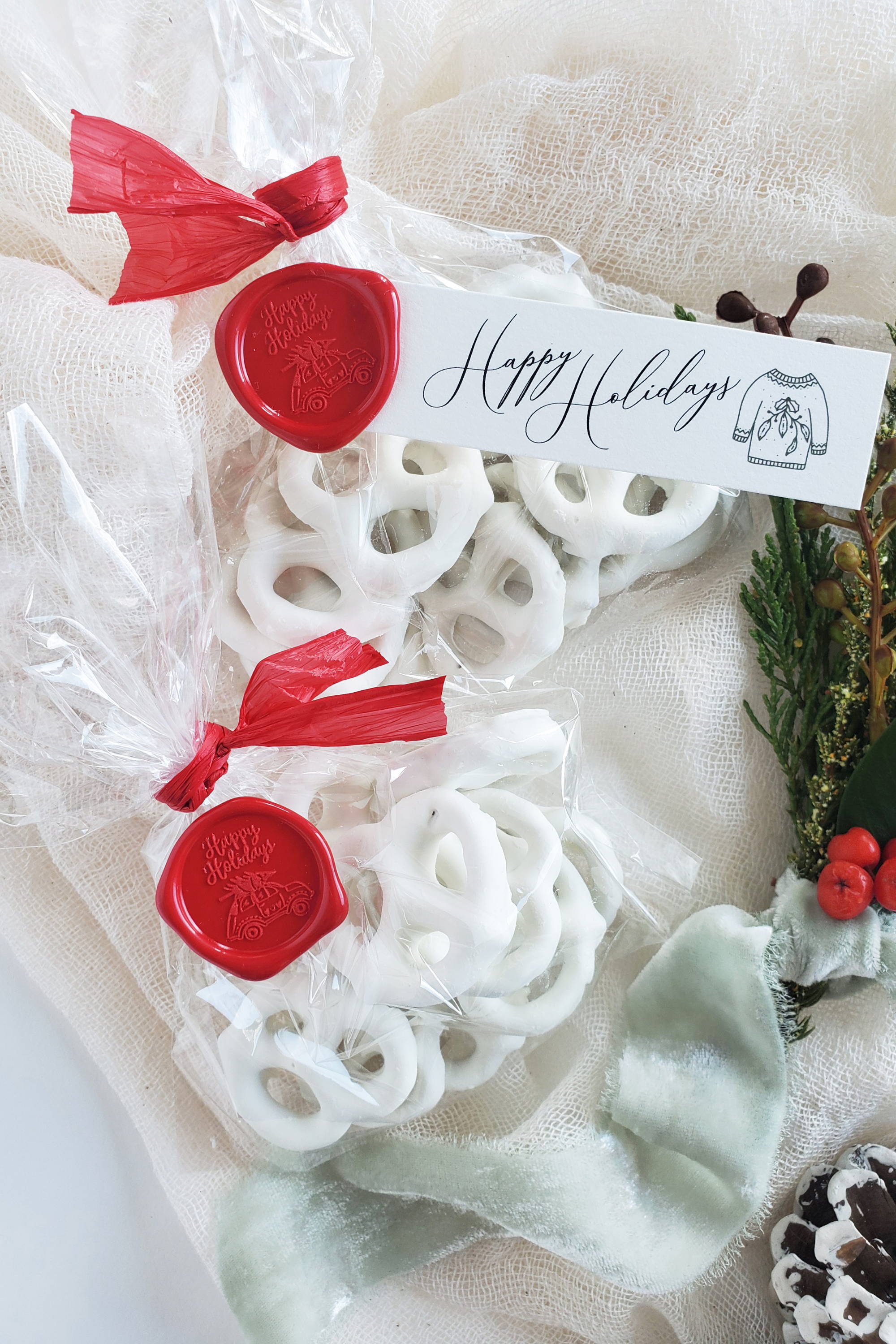 Let's take the idea of a card one step further. This year's holiday letter won't likely have a list of your recent travels, but it doesn't mean that your friend list wouldn't appreciate getting some words of wisdom sharing what you've mastered during lock-down. Here I've created a few ways to do this.
Why not wrap your letter in a pretty vellum sleeve finished with a wax seal? Because who doesn't love the romance of opening a letter sealed with wax? Or, if a newsletter isn't your thing what about a nice note card accompanied by a few printed photos of your family's best shots. I've chosen soft, non-traditional holiday colours here paired with a festive the Most Wonderful Time seal. The soft colours portray the effortless, almost romantic feel of these pieces, while the gold seal adds a touch of holiday charm.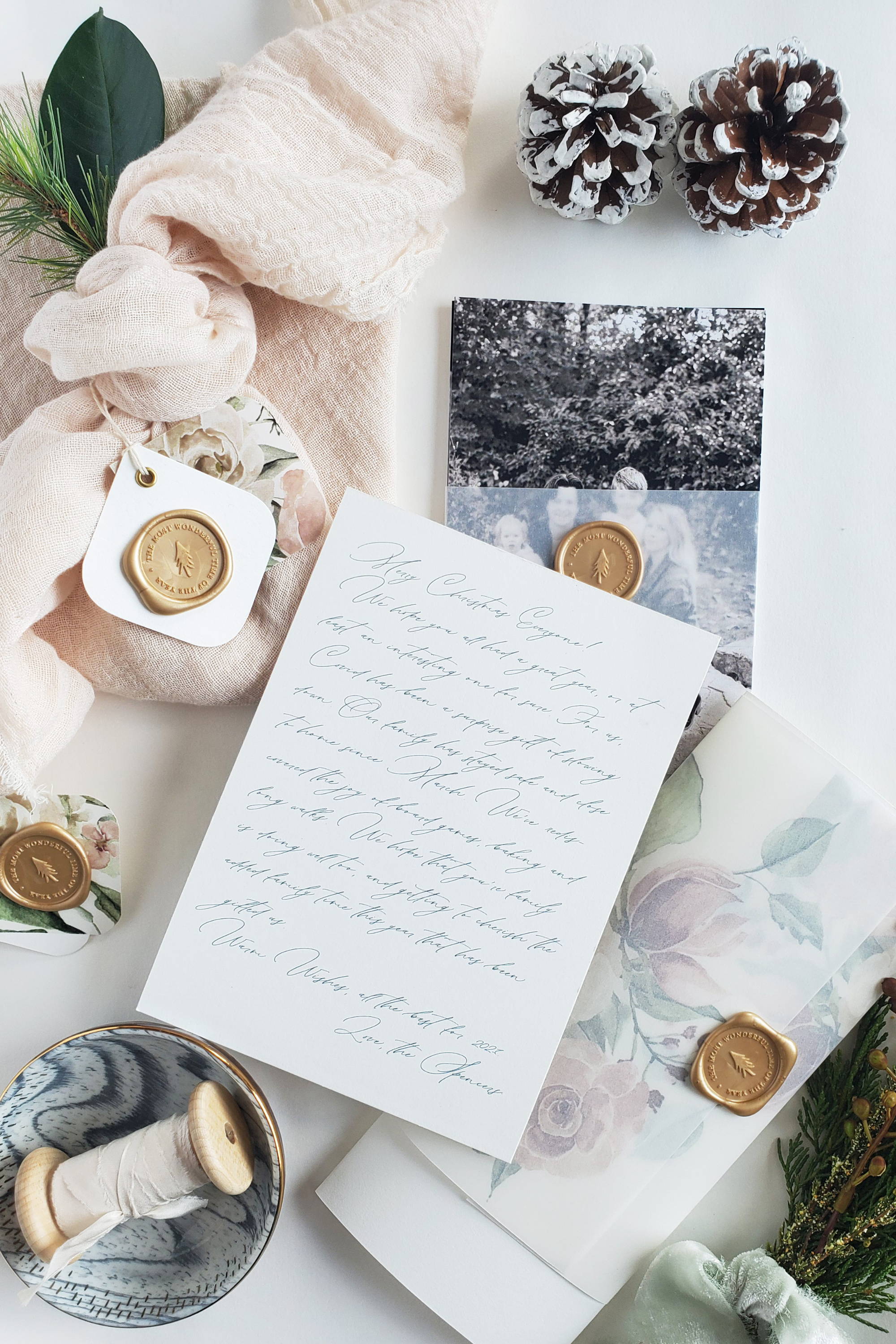 Whether you're exchanging gifts in person or sending through the mail, a personalized gift tag can really pull the heart strings. And really, everyone loves seeing their name in print, especially hand torn, gold leaf edged, paired with a soft silk sage ribbon and a Merry Christmas wax seal. Your recipients will be keeping this one!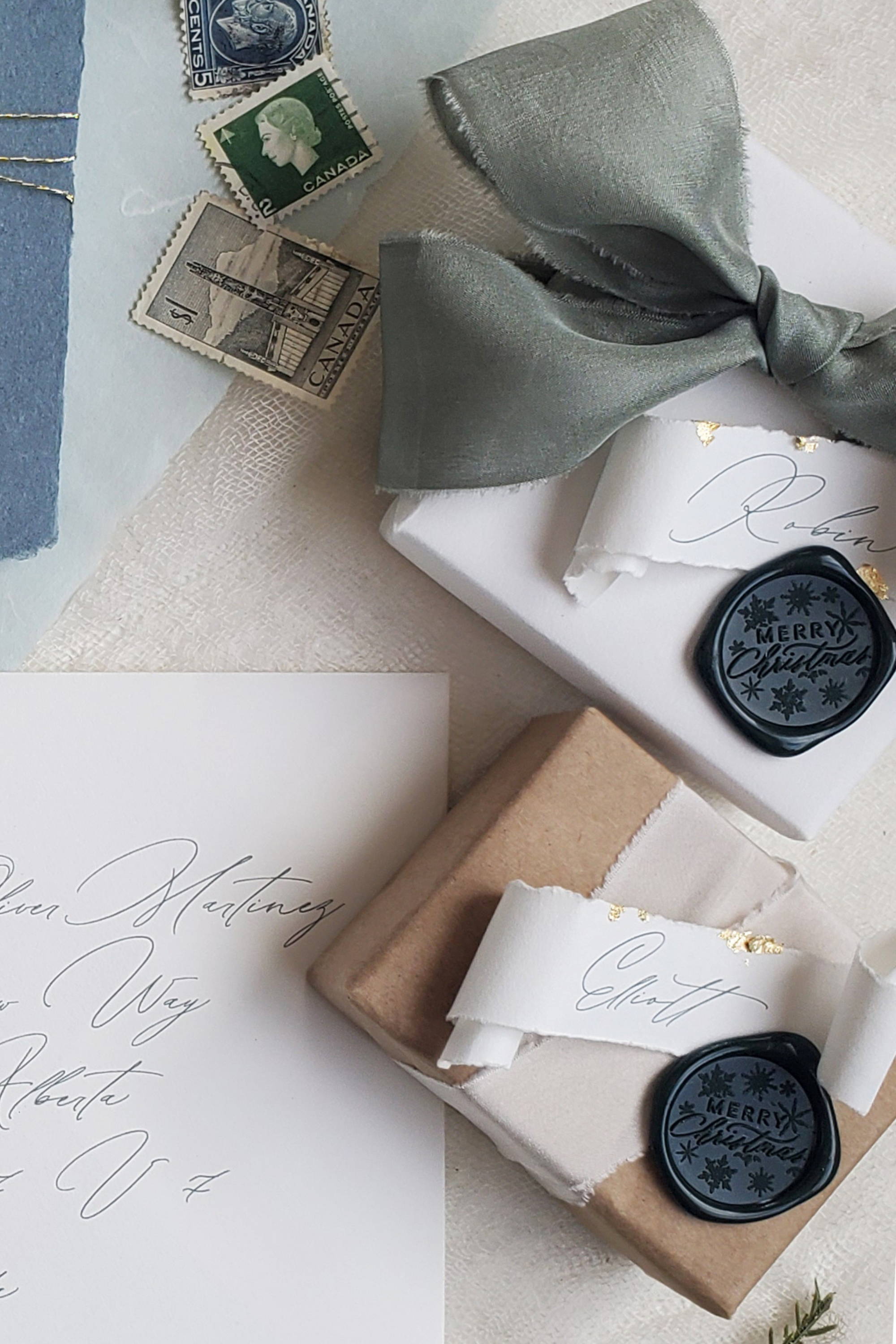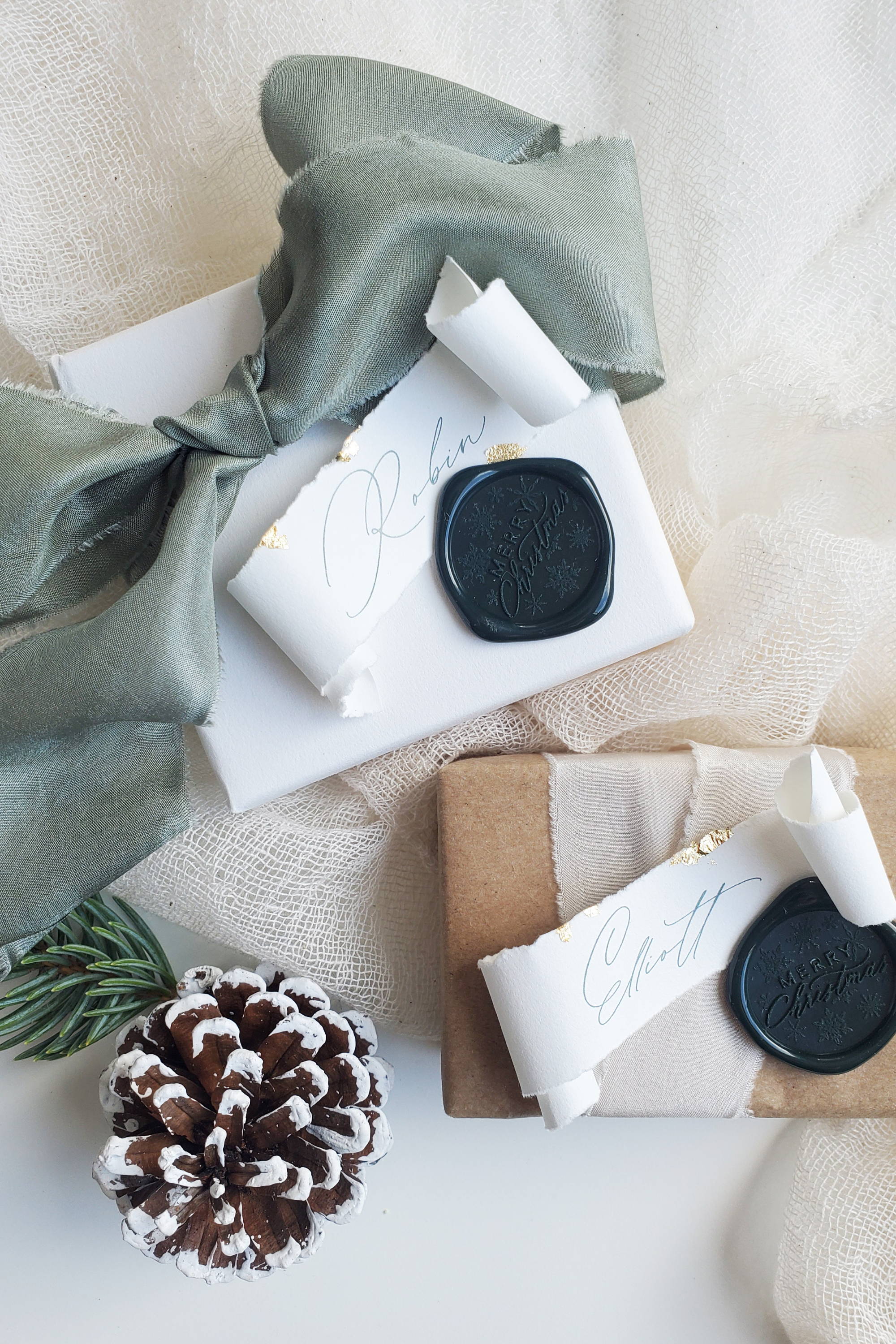 On to the consumables! Whether you are gifting wine, a hot chocolate mix, or festive holiday cider, I find adding a wax seal to the bottle itself will make your guests remember your effort and intentions. No more "who brought this?" The professional adhesive will make sure the seal will stay on the bottle sharing your "Holiday Cheer" message. Add a gift tag, and some luxe velvet ribbon for the ultimate lavish gift.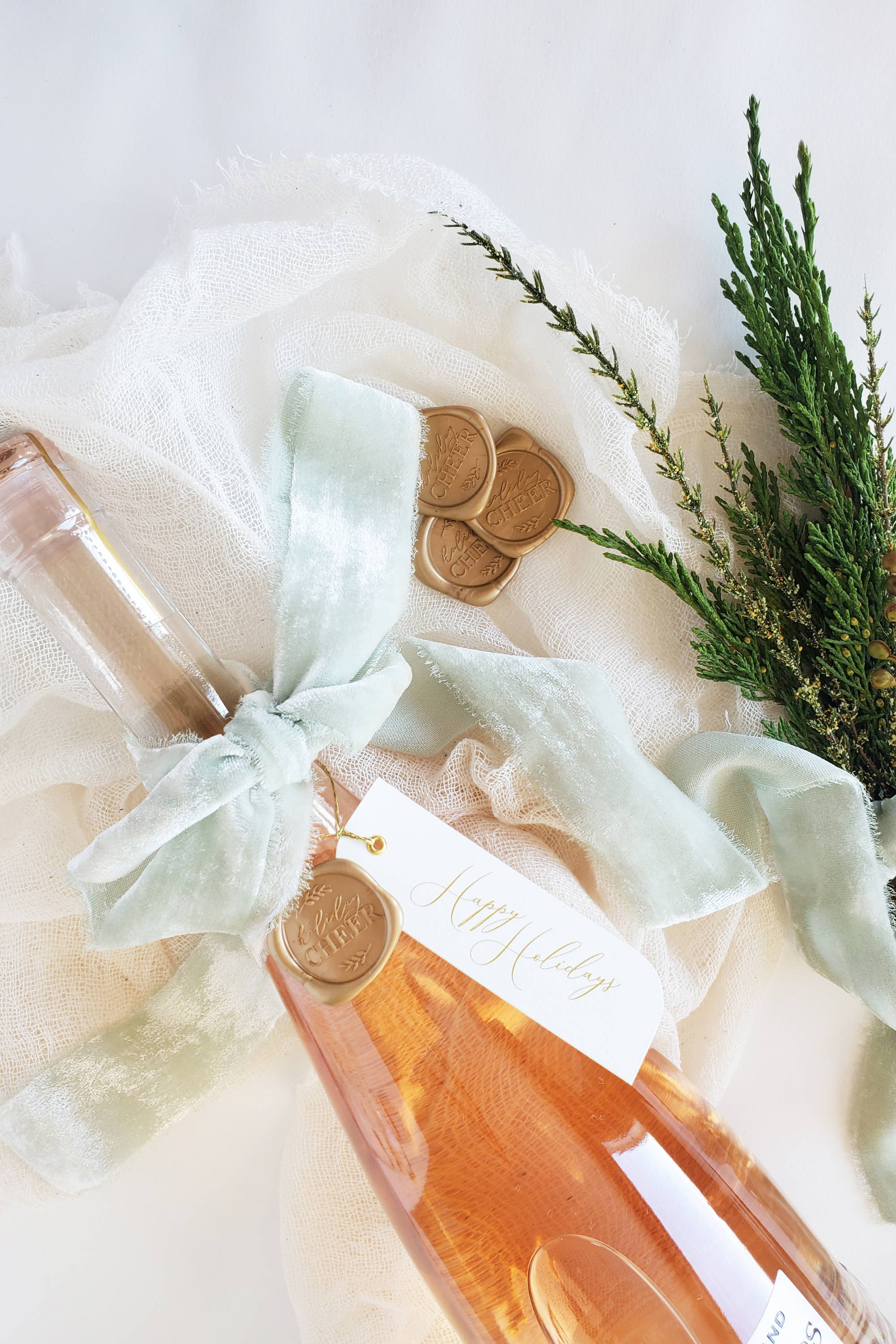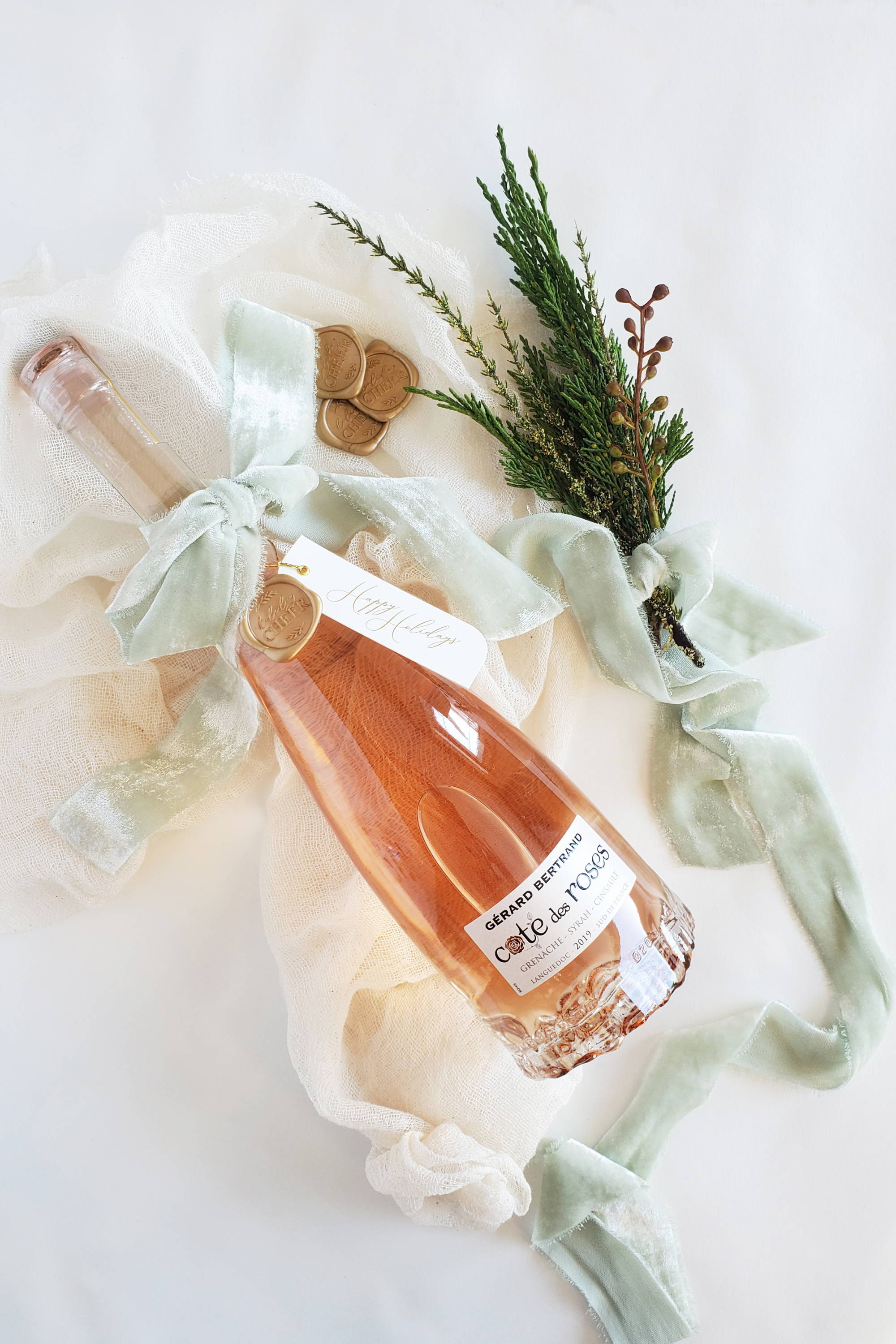 BONUS! Give the Gift of Wax!
Another way to send seasonal love? Why not gift a wax stamper, wax sticks and some ready-to-go, peel and stick seals to those on your shopping list. Essentially give the gift that keeps on giving! Your friends and family can carry forward the thoughtful act of embellishing their stationery and gift items. This beautiful Holiday Ornament design is a classic one that will appeal to many and a you can't go wrong with a traditional red seal. Wrap it up in some beautiful paper, ribbon and add a touch of greenery and you have a perfect gift.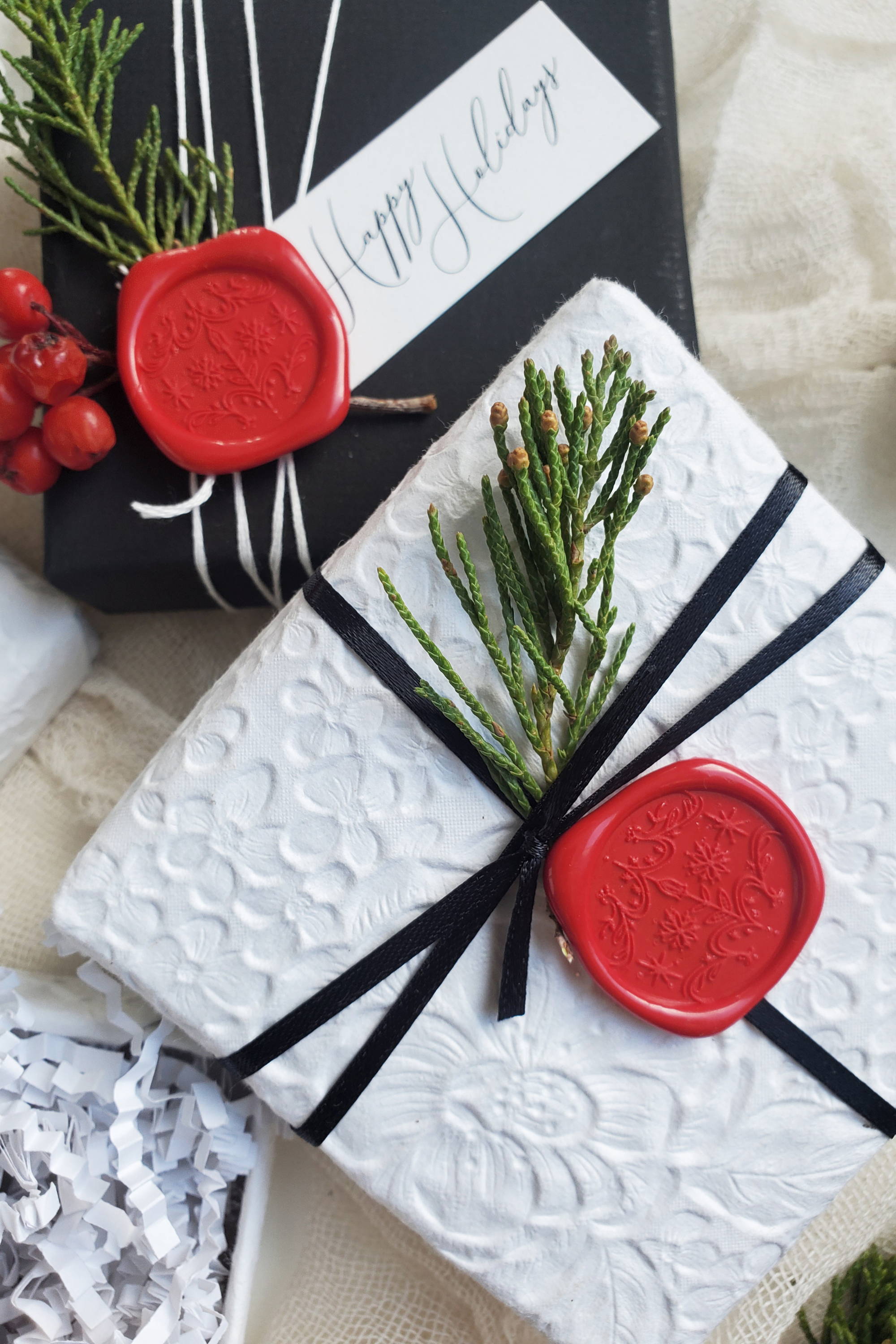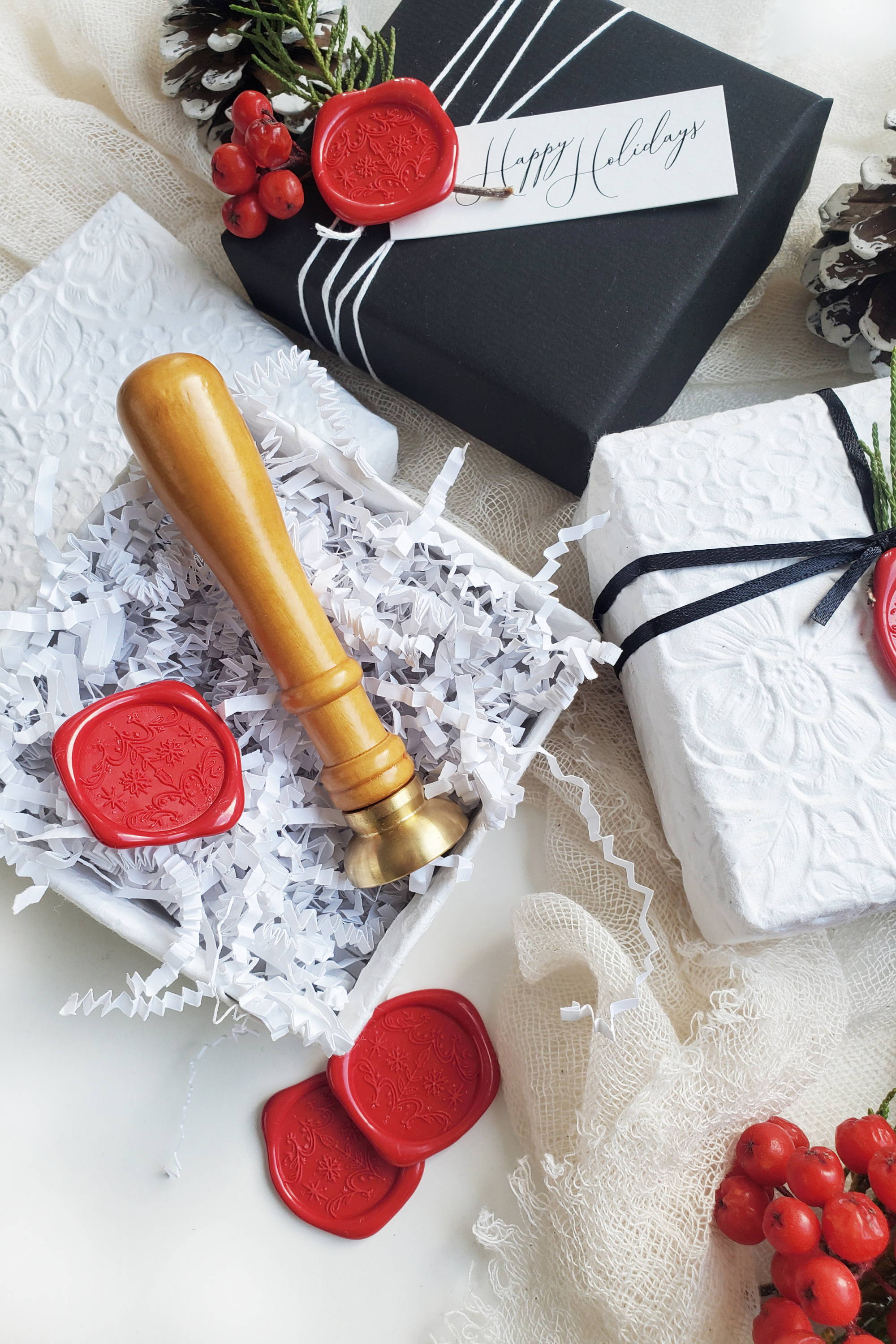 We can't wait to see all the ways you show your love from afar this holiday season! Remember, sentiment and thoughtfulness make for the most memorable gifts. So, don't be ashamed to get real lovey-dovey in your holiday cards and letters! We all could use a little extra love...especially this year!
With Love,
ARTISAIRE