Hi there,
We've partnered up with Creative Community Member, Hello Maurelle to bring you something super exciting...a full guide and tutorial on addressing envelopes with faux calligraphy! This guide will teach you the basics of faux calligraphy, the tools that you will need, how to address envelope, and more. Without further ado...
Welcome, Maurelle!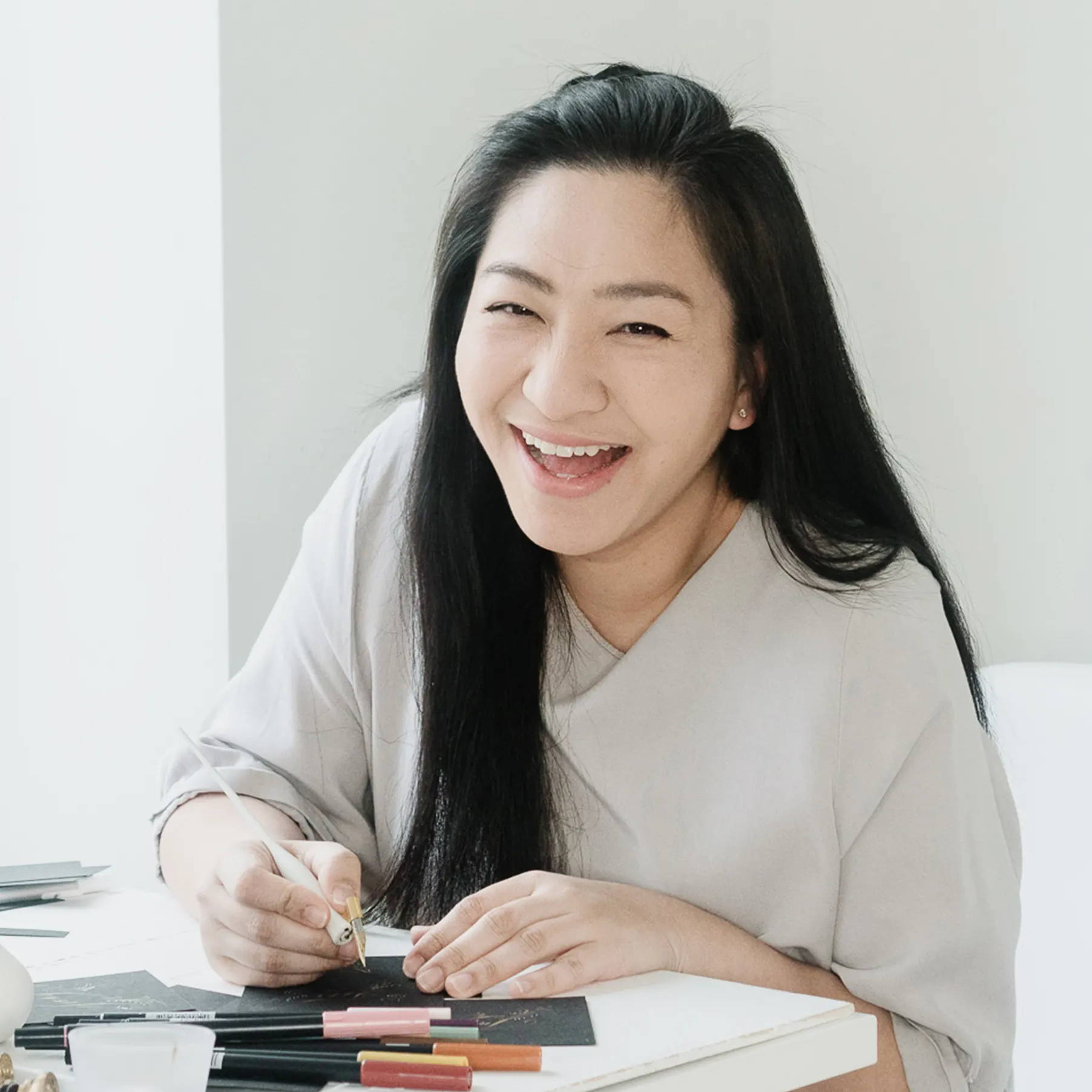 Hello! I am Maurelle, a Vancouver-based calligrapher, lettering artist, and educator! I am passionate about teaching the art of calligraphy to others through in-person and virtual workshops, and believe anyone can learn this lost art. I am so happy to be taking over the ARTISAIRE blogs, to teach you Faux Calligraphy and how to address an envelope!
What is Faux Calligraphy?
Calligraphy means beautiful handwriting, and you achieve this by using calligraphy tools such as pointed, broad or brush pens. Faux, which means imitation; thus, with Faux Calligraphy, we imitate the look of calligraphy letters by using pretty much any writing tool we have lying around our home.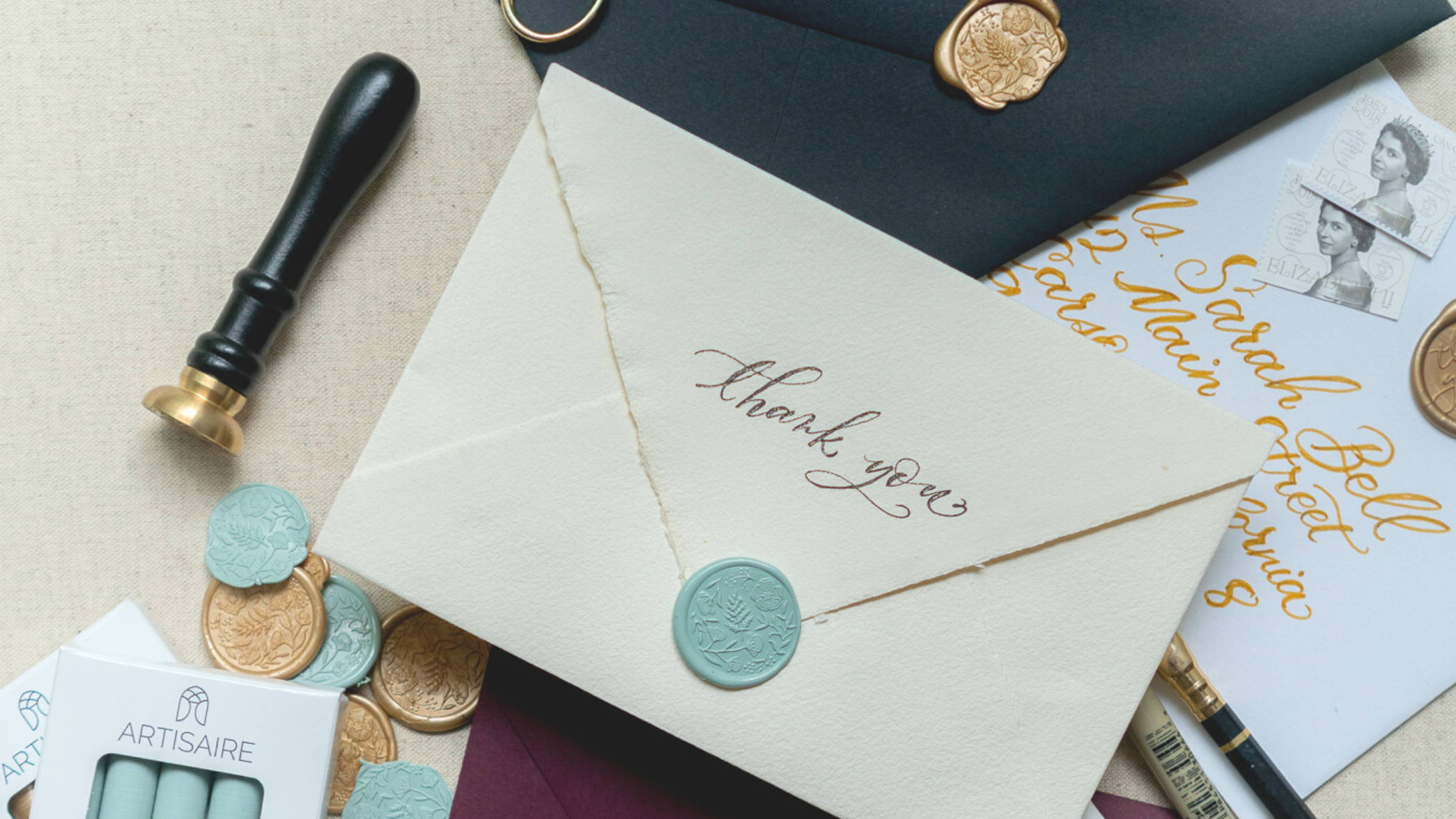 How is Faux Calligraphy Useful for Weddings?
I'm glad you asked! Anyone can use this technique to write on non-paper surfaces like chalkboards, wall, mirrors, marbles, agates, leather etc., where the calligraphy tools might not work. For paper surfaces, you can use it to make small signs and envelope addressing.

Today, I will share how you can easily address your envelopes using this technique. You can grab any writing material like a pencil, sharpie pen, pointed tip markers and even a ballpoint pen!

Before we dive in straight to addressing envelopes, you must learn first the basics of faux calligraphy!
Learn The Basics of Faux Calligraphy
Calligraphy is not Handwriting, so it will be a little bit of learning curve, breaking old writing habits. However, the outcome will be SO beautiful, with perfectly consistent letterforms.
Tools for Practicing Faux Calligraphy
Quality Paper at least 24 lbs -32 lb. I have provided practice worksheets that you can print out - trust me, it will make your life easier! If you do not have access to a printer, you can quickly line your paper with a pencil. You can also use a notebook with a smooth texture.
Pen of choice. A pencil will come handy and any fine point pen you have available If you want to take it a notch higher, you can use also have any of the following :

colourful markers with a fine tip like Tombow dual brush pen ( we will use the fine tip)
Gel pens
Sakura Gelly Roll ( I love using the white one, but it comes in many colors!)
Sakura Pen touch Gold 1.0mm Fine Point

Eraser
Ruler
Download Your Practice Worksheets Here!
Downstrokes & Upstokes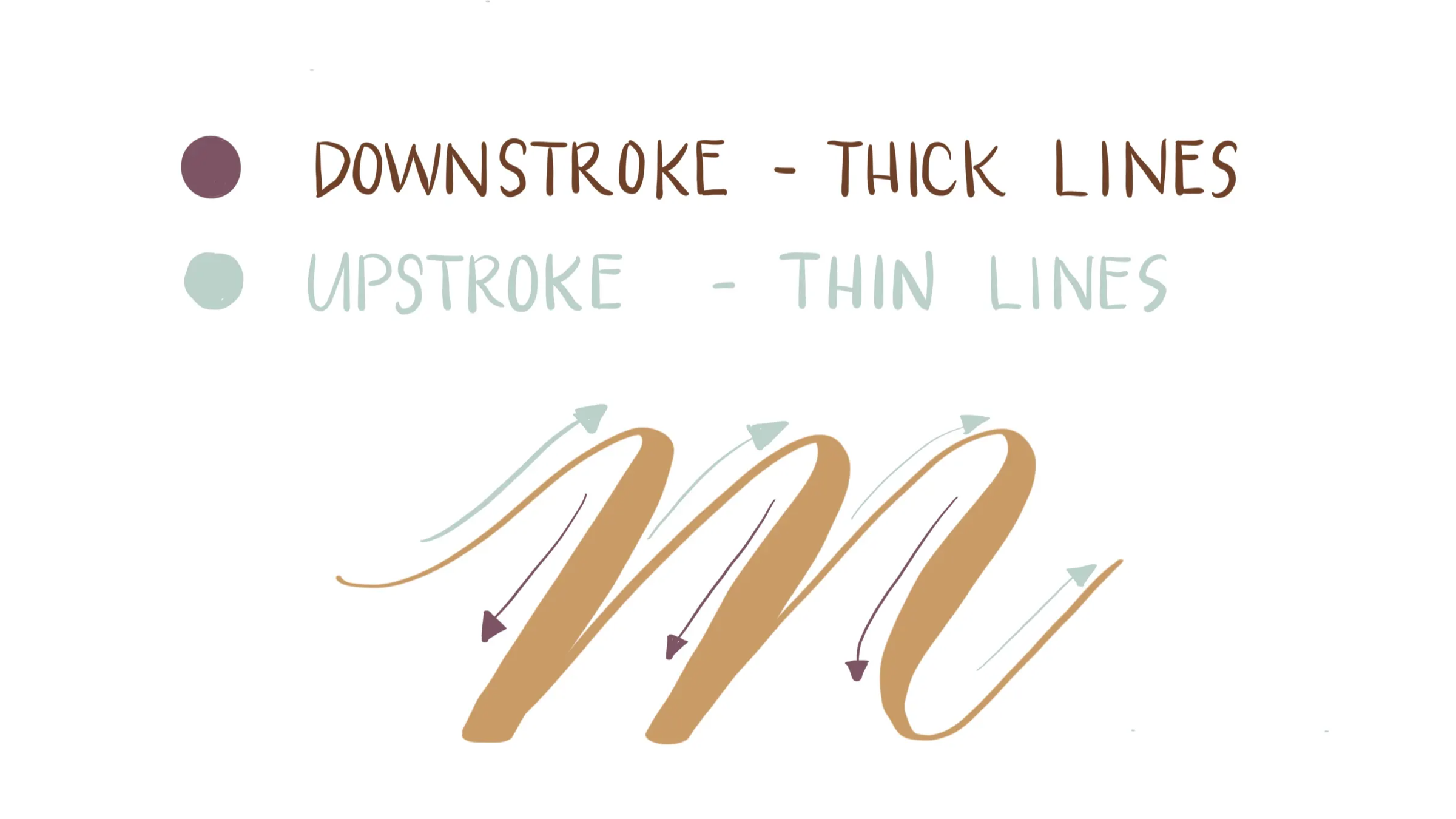 What's beautiful about script calligraphy is the contrast of thick and thin lines. To imitate it (faux calligraphy), you have to create the thick downstrokes and thin upstrokes.
Any stroke that goes up the paper ( away from your body) is a thin line called an upstroke.
A stroke that goes down the paper ( towards your body) is a thick line called a downstroke.
Video Tutorial: The Basics of Faux Calligraphy
In this video, I'm going to show you how to do the following: basic strokes, lowercase alphabet, and uppercase alphabet. Learning how to properly do these strokes and the fundamentals of faux calligraphy, will make your calligraphy not only look more fluid, but it will also make your calligraphy look more professional and beautiful!
Time to Address Envelopes!
Alright, now that you've learned the basics of faux calligraphy, it's time to start addressing those wedding invitations and envelopes! Here is one variation of how to address envelopes, this is probably the most standard way in terms of placements!
Front of Envelope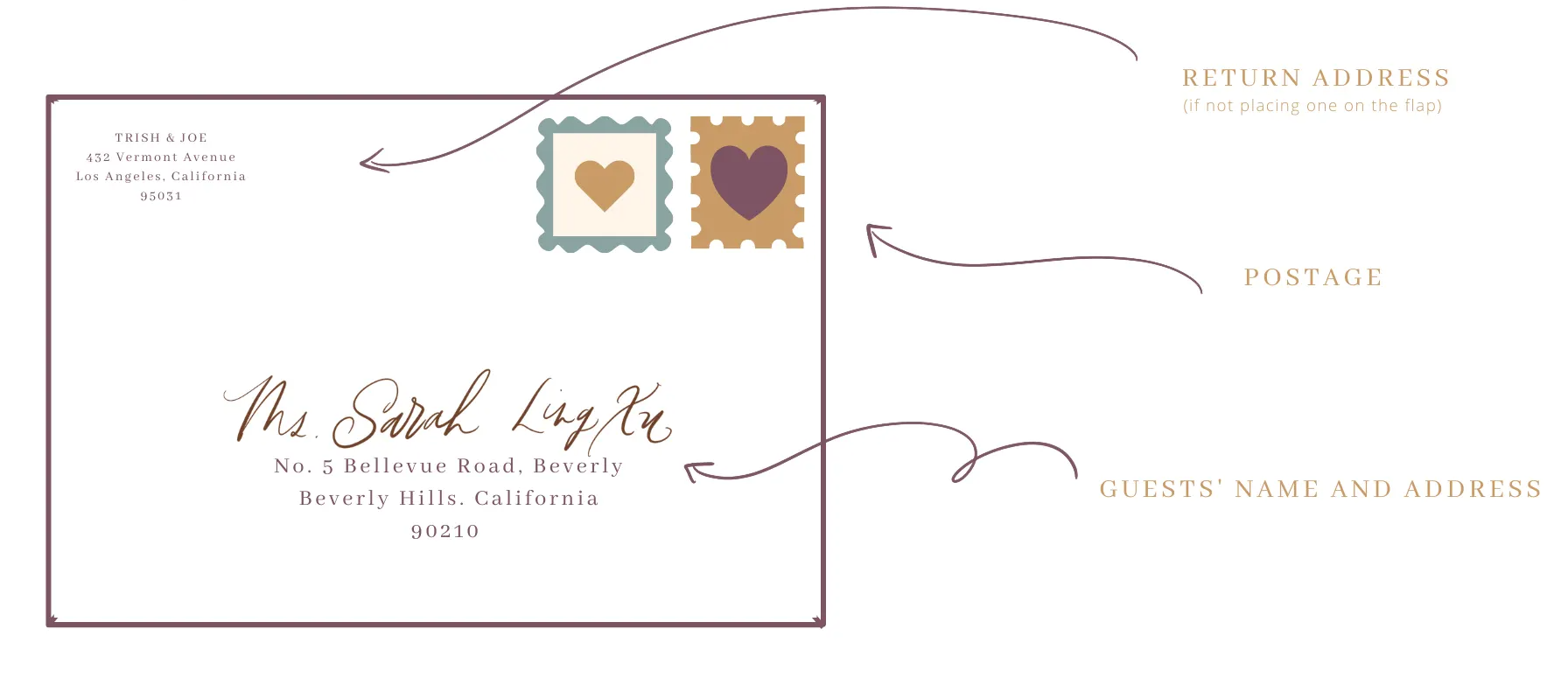 Back of Envelope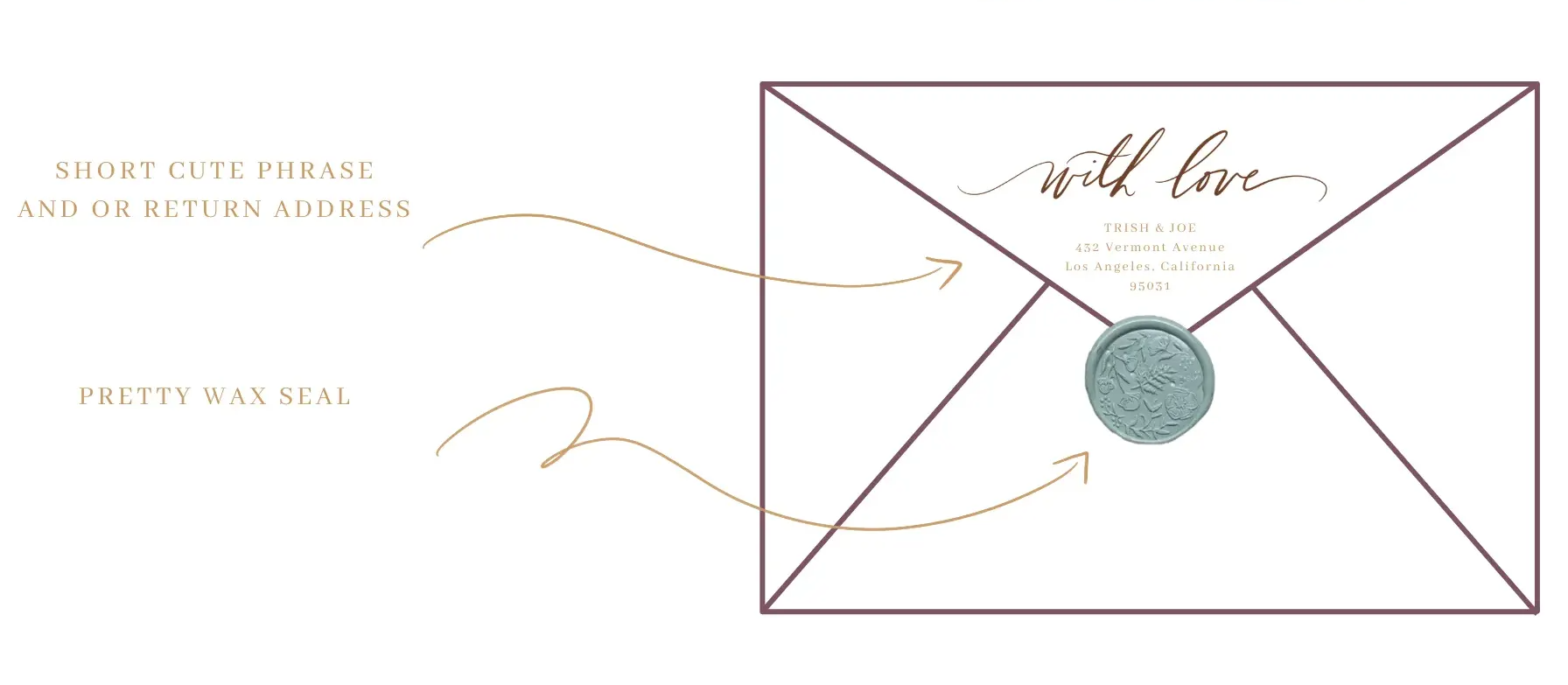 Tools for Addressing Envelopes
A variety of envelopes - matte envelopes are the best, stay away from glittery, overly textured and metallic envelopes for now.
A variety of pens that will be visible when used on the envelope

For darker envelopes - I like to use the white Sakura Gelly roll or a Sakura Pen touch
For lighter envelopes - any fine point markers and gel pens

Pencil
Eraser - I prefer a kneaded eraser for a no messy eraser residue and it doesn't leave a mark
Grid or dotted paper larger than the envelopes you'll use. Letter size or larger works great ( I also have a downloadable pdf
The Anatomy of an Envelope
Video Tutorial: Envelope Addressing Using Faux Calligraphy
Wrap up
We hope you enjoyed reading this blog brought to you by Hello Maurelle! If you loved learning about Faux Calligraphy and would like to learn more, we highly recommend checking out Hello Maurelle for calligraphy education and workshops (there are online workshops)!
Don't forget to tag @artisaire and @hellomaurelle in your wax sealed, calligraphy addressed envelopes! We can't wait to see what you create!
With Love,
ARTISAIRE