Learn how to design and optimize artwork for wax seals, and all about our custom process.
Creating gorgeous wax seals starts with quality artwork. For us to engrave fine details and create a sharp image we require images submitted to follow these guidelines:
To faithfully recreate your design in a wax seal we need a high DPI file. This will ensure your lines engraved are crisp and smooth. Lower DPI files will have a lower quality finished look. When exporting your files or receiving them from a graphic designer, make sure they are 300 DPI.
Our preferred file formats are .eps, .ai, and .pdf. We will accept .jpg or .png files however, vector images will give the best results. This is because we may have to scale your artwork or convert a .jpg into a vector which can cause a loss of details.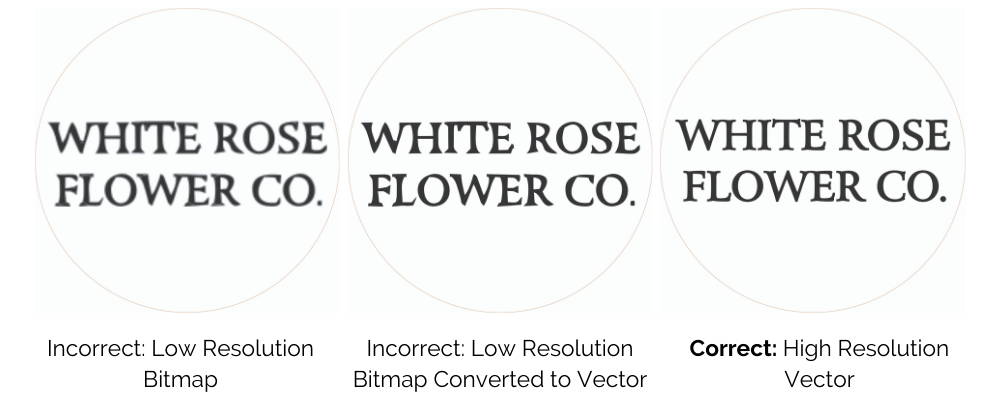 A Dieline Around Your Image
If you require specific placement or orientation of your image provide a dieline around your artwork. To avoid being incorporated into the final engraving your dieline must be a color and not black or grey, as all artwork in black and grey will be engraved.
When designing artwork or converting it into a wax seal ready design you have to ensure there is a minimum line thickness. This is because lines that are too thin will not allow sealing wax to enter the stamp head. Below are our recommended minimum thickness:
| | | | | |
| --- | --- | --- | --- | --- |
| Thickness | Pixels | Millimetres | Inches | Points |
| | | | | |
| Lightweight Line Thickness | | | | |
| | | | | |
Like a brush stroke to a canvas, your design choices influence how your wax seals will look. Below are some recommendations to make sure your artwork always looks stunning.
If you want to create an extremely intricate design, use size to your advantage by increasing the size of your seal to enhance fine details, and avoid line merging.
The most common adjustment we make to client artwork is the size of wax seal.
Why? Because we want your seals to be as clear as possible – and size is the biggest contributor to that! Think of size as your friend – especially if you love working with ornate calligraphy, delicate floral illustrations, or complex artwork!
The larger the seal, the more intricate detail we can capture in wax! With sizes ranging from 0.75" to 1.25", there really is a size for every design! For custom sizes and dielines, reach out to us for a special order.
Optimal Detail for 0.75" size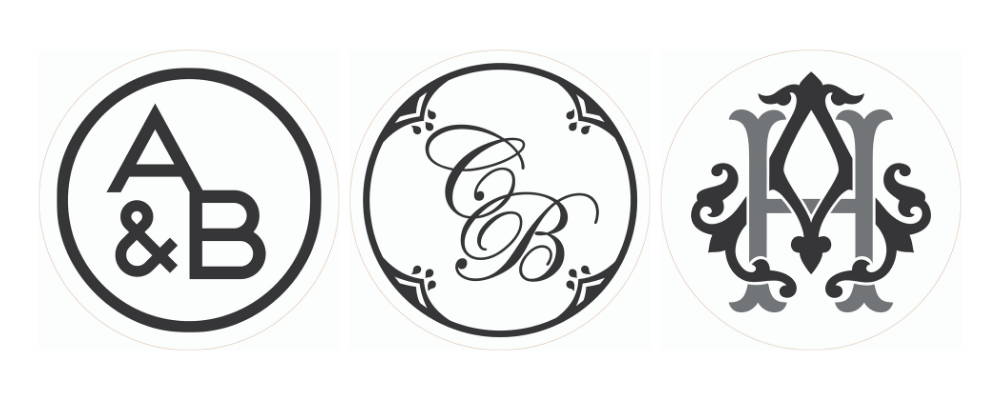 Optimal Detail for 1.0" size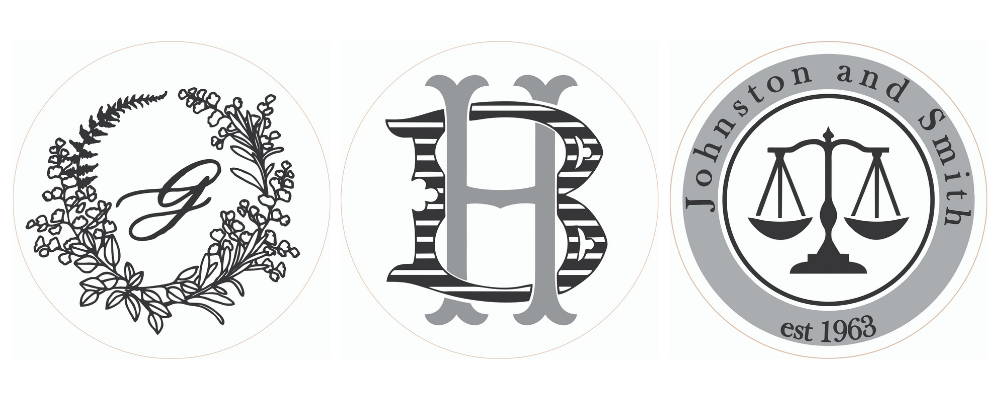 Optimal Detail for 1.25" size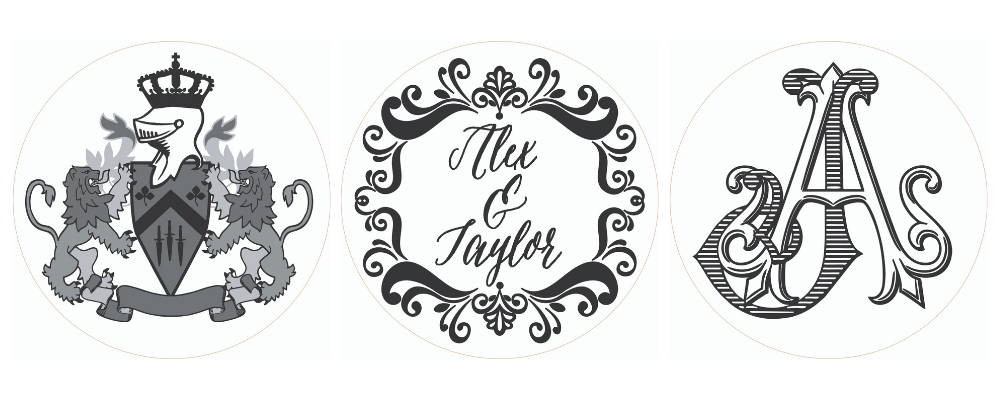 Designs with at least 50% coverage on the brass die are less susceptible to blemishing or bubbles in your finished wax seal. If you are working with a large seal size (+1.50") aim for at least 60-70% coverage.
Illustration techniques like shading and crosshatching will not translate the same way once pressed into wax. Instead – use layers of multi-depth engraving to create the same effect.
Layer your design using different shades of color (light gray being the faintest/shallowest engraving and dark gray/black being the deepest engraving) to create dimension!
Quick Tip: Think of your design like a pyramid – where the base layer (shallowest) is the lightest gray, the middle layer is a medium gray (mid depth engrave) and the very top of the pyramid (deepest engrave) is in black. Instead – we use layers of engraving to create the same effect.
When creating detail in your artwork, you want to avoid using cross hatching or shadowing. Lines that are too close together cause merging, and will lose detail. Aim for a balance between detailed and simplified artwork.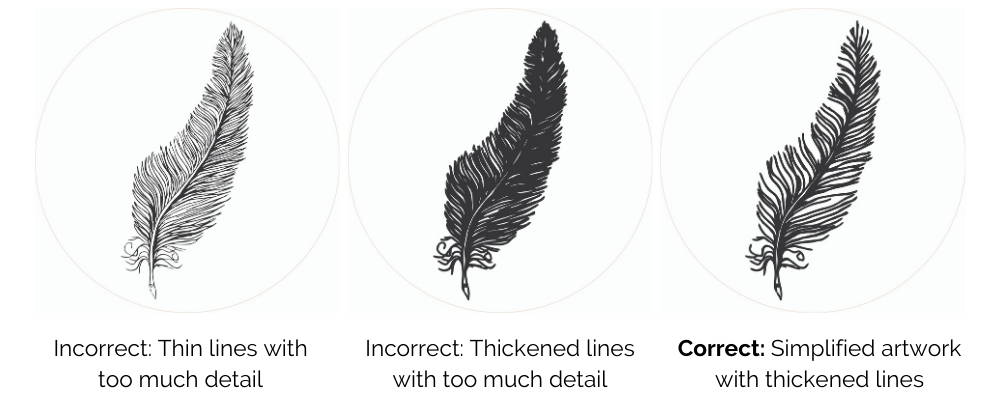 Place your order by purchasing one of our personalized products. These products include monograms, single initials, dates, and custom products.
By uploading artwork you confirm you have rights to use that image. In the event you do not, you are liable for any copyright damages.
Once you've placed your order, our engraving team will email you a link to your digital proof within 1 business day.
This proof will contain placement of your artwork with recommendations to optimize your design. When reviewing your proof you can give feedback to our designers, 2 rounds of revisions are included.
Press the green Approve button when you are satisfied with your artwork.
Proofs are delivered within 1 business day
Our engraving team will make recommendations to optimize your artwork
2 revisions are included in your purchase
Single initial designs do not receive a proof and move straight to production
Optional Services
There may be situations where you require additional services outside of our custom process. The services are outlined below. A member of our engraving team will make recommendations if these services are required.
Services
Reason
Price

You need more than 2 rounds of revisions.
Covers additional 5 rounds of revisions.

Your artwork needs heavy edits to be engrave ready.
This would be for colored, hand-drawn, low resolution, or artwork edits.
Once you have approved your proof, we are now ready to make your products. Any timelines at checkout include our entire process, and give you an estimated delivery date.
After we have made your products we will ship them to you with your chosen speed. You will receive a shipping confirmation email once your items are on the way.
Making your products tends to take longer than shipping them. We like to make sure everything is absolutely perfect! If you don't receive an email from us your delivery is moving as planned and will be delivered by your estimated date at checkout.
Can I Use Candle Wax To Make Wax Seals?
Sealing wax has a different composition to candle wax. Your wax stamp will leave an impression, however candle wax will crumble and break easily.
I Am Trying To Switch Colors In My Sealing Wax Gun
To switch colors, first clear the chamber with regular glue gun sticks until it dispenses clear. Then insert the new color and squeeze the trigger to push the glue out until it dispenses only sealing wax. If you switch colors often, we recommend investing in a sealing wax gun for each color you use.
My Sealing Wax Is Bubbling
Bubbling sealing wax means your wax is overheated. Simply unplug from the wall and continue to work until it is cool. Once the trigger become difficult to squeeze, plug the sealing wax gun in again.
My Sealing Wax Gun Is Dripping
This happens when your sealing wax is overheated. Unplug your gun, and continue to make seals as the wax cools. Once it becomes difficult to squeeze the trigger, plug in again.
My Wax Stamp Keeps Sticking
Your sealing wax is too hot, or you haven't cooled your wax stamp enough. Leave your wax stamp on the ice pack longer between seals or give some time for the wax to cool before pressing.
There Is Wax Stuck In My Stamp
Pour some sealing wax and make a wax seal, this should remove any leftover wax. If this doesn't work, you can use a toothpick to pluck the wax. Avoid using a metal object as it can scratch the stamp.
My Sealing Wax Spoon Is Covered In Soot
This is normal as an open flame will cause soot to form on the bottom of your sealing wax spoon. We recommend cleaning with every use. To clean your spoon simply wipe with a paper towel once it has cooled.
How Many Seals Can You Get Out Of A Wax Stick?
You can make 8-10 1" seals for each of our sealing wax sticks. We sell them in packs of 5 to make a total of 40-50 1" seals per pack.